Fein-Elast Estonia Llc.
Address
Pärnu mnt 52, 86703 Sindi, Estonia
Phone
+372 445 9940
Fax
+372 445 9959
E-mail
info@fein-elast.ee
Website
www.fein-elast.com
Leaders
Mr. Urmas Mägi - Chief Executive Officer
Description

Employees: 47

Export to: Latvia, Lithuania, Poland, Finland, Germany, Austria, Switzerland, Russia, Turkey, Greece, Denmark

Languages spoken: English, Russian

Certificate: Öko-Tex Standard 100 class I and class II

Products: Covered elastane yarns for hosiery and sock production (hosieri yarns, sock yarns, air-covered yarns, rub yarns, medical yarns).

Services: Producing of covered yarns.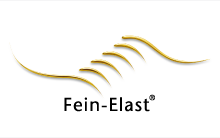 Back to members list